In the Third Station of his Way of the Cross (Jesus falls for the first time), Pope Saint John Paul II begins his contemplation in these words: "Jesus falls beneath the burden of the Cross. He falls to the ground. He does not seek refuge in his supernatural powers, does not call on the strength of the angels." There was no power to help the Christians in Iraq, when in August 2014 they were forced to flee the town of Qaraqosh, then the largest Christian town in the country, and leave it to fall into the bloody hands of IS. Those who remained suffered, many were murdered or enslaved, their homes were set fire to, 11 Christian churches and 70 other Church-Iraq owned buildings were systematically torched, and all the Christian religious symbols were destroyed. Even the largest Christian church in Iraq, Al-Tahira Cathedral – dedicated to the Immaculate Conception of the Blessed Virgin Mary – was desecrated and torched. The Islamists carried out target practice in the cathedral's great outer courtyard.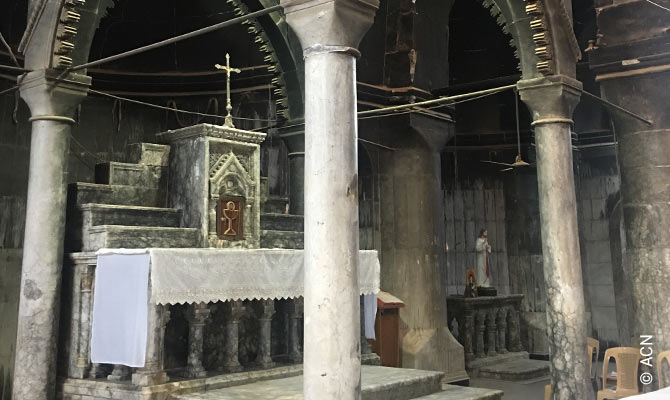 The Divine Liturgy in Al-Tahira Cathedral – the walls still blackened and partly open to the elements.
The resurrection of Al-Tahira Two years later, after the terrorists had been expelled, the people began to return to Qaraqosh. By now almost half the original Christian population are back, and – thanks to your generosity – many of the houses have already been repaired or rebuilt. Now they want to restore the Cathedral of Al-Tahira to its former glory. Its symbolic importance extends well beyond the city of Qaraqosh. Despite the destruction, the Christians have been gathering in the burnt-out ruins to celebrate the Divine Liturgy. At the end of his meditation, Saint John Paul II wrote: "Through the repeated falls of Christ beneath the Cross, God will win healing and salvation for mankind." It is the power of Love that heals. We are helping with €200,000.